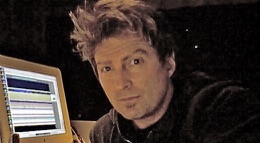 Paulhartwig.com original text, design and content,C Paul Hartwig, 2009. All other materials are C by original authors / artists / labels and are presented here for educational and promotional purposes only. No material from this website may be copied or retransmitted without the written consent of it's authors.
Paul Hartwig | composer | hartwig music |
| c.612.280.0954 |  
email: paul@hartwigmusic.com
About Paul
Based in Los Angeles, Paul has written music for a contemporary MGM TV series "She Spies" and the award-winning short film "Grandfather's Birthday,"
The Sundance Film Festival award winner
"Bearwalker," the documentary award -winning film "Poles Apart" and other films.
Hartwig's training at the prestigious Berklee School of Music, infused with a seven-year intensive rock music career with Limited Warranty that yielded two albums for the major labels Atlantic Records and EMI, is also informed by what one film producer called "Hartwig's refined cinematic sophistication and artistic sensibility."
Hartwig won an Emmy for "Grandfather's Birthday", a film starring Robert Prosky. He mixed the film at George Lucas's "Skywalker Ranch" in Marin County, Of late, he composed music for Soccer Mom, his "over-the-top" work for the unreleased animated series, "Ronin" are other films Paul scored.
An "American Idol" with Limited Warranty
Hartwig's musical education began when he started playing classical piano at the age of five. Paul studied at Berklee College of Music, and in his early '20s, he founded the pop-rock band Limited Warranty and recorded two albums – after being "discovered" by the TV show "Star Search," (a pre-curser to today's American Idol"). Paul signed with Atlantic Records. Hartwig's band enjoyed a modest hit song "Victory Line" that reached number 64 (with a bullet) on Billboard's Hot 100. He was also recognized as "Best Keyboardist" at the Minnesota Music Awards.
The film and television composer works today in both Minneapolis/St. Paul and the Los Angeles area. He is married and the father of two children, who are his most celebrated compositions to date.